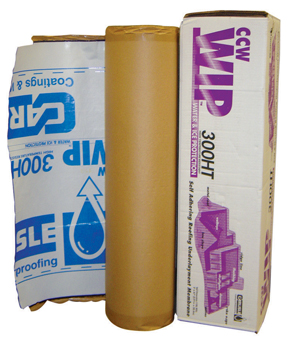 Carlisle Coatings & Waterproofing Offers
WIP 300HT For Superior Rooftop Protection
Carlisle Coatings & Waterproofing, a leading manufacturer of waterproofing products, now offers Water and Ice Protection 300HT, a self-adhering underlayment developed specifically for use under metal surfaces.
CCW WIP 300HT is a 40-mil, high tensile strength, rubberized asphalt underlayment designed to withstand temperatures up to 240°F. The rubberized asphalt is laminated to an impermeable polyethylene film layer, making CCW WIP 300HT a superior waterproofing underlayment that provides dual-barrier moisture protection.
Because it is self-adhering, CCW WIP 300HT can be installed directly to a number of surfaces without the need for additional primers, adhesives or fasteners. Unlike similar waterproofing products, CCW WIP 300HT will not crack, dry out, or become brittle, even under the most extreme weather conditions, resulting in permanent protection and low life cycle costs.
CCW WIP 300HT also features self-sealing properties that allow it to seal around any nails, staples, screws or clips that puncture it during installation of the finished roofing material. The self-sealing properties of CCW WIP 300HT significantly enhance the waterproofing performance of any roof system by eliminating the potential for leaks around troublesome rooftop fasteners.
CCW WIP 300HT underlayments are manufactured in 67-foot by 3-foot sheets and are available with a black or white top surface. The white membranes are ideal for warm climates, absorbing less heat and providing efficiency through the long summer. CCW WIP 300HT membranes also feature a unique, skid-resistant top surface that makes installation safe and easy.
With its WIP 300HT underlayment, Carlisle Coatings & Waterproofing continues to offer strong solutions for coating and waterproofing contractors and the construction industry as a whole.
Source: Carlisle Construction Materials