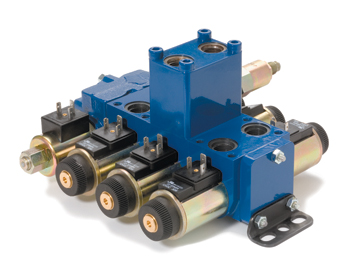 Eaton Introduces MDG
Mobile Directional Control Valve
Eaton Corporation has introduced a mobile directional control valve based on its industry-leading Vickers DG4V3 design.
Eaton's new MDG valve features a closed-center parallel or series circuit that also can function as an open-center circuit via unloading inlet options. Its modular, sectional design offers versatility to create custom, multi-function circuits through the use of various inlet- and work-port options.
Typical applications include on/off control for positioning/engaging of multiple auxiliary mobile functions.
Eaton's Hydraulics Operations is a business segment of Eaton's Fluid Power Group. The business is a worldwide leader in the design, manufacture and marketing of a comprehensive line of reliable, high-efficiency hydraulic systems and components for use in mobile and industrial applications. Mobile and industrial markets include agriculture, construction, mining, forestry, utility, material handling, earthmoving, truck and bus, machine tools, molding, primary metals, automotive, power generation, port machinery and entertainment. Eaton's Hydraulics Operations provides customer-driven solutions under brand names such as Aeroquip®, Boston®, Char-Lynn®, Eaton®, Hydro-Line®, Vickers and Weatherhead®.
Source: Eaton Corporation