EQUIPT Improves Mixing with New Helix Blade Agitation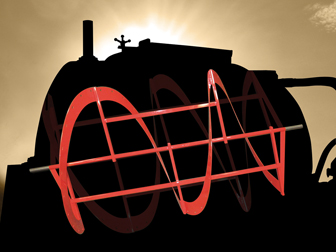 EQUIPT's continuous design improvement program has resulted in a new sealcoat tank mixer. The Helix Blade provides better agitation in their popular line of sealcoating machines. The blade is designed to power through any sealcoat mix even with extreme sand loads. The hydraulically driven blade provides more thorough mixing and will not stall like traditional paddle systems. The blade incorporates 9 mm rubber scrapers to ensure complete mixing of sand and emulsion.
The EQUIPT PolyPro tank is the proven companion to the new blade with 9 mm steel end plates to mount the hydraulic motor and absorb torque loads. The EQUIPT polyethylene tank design has been proven in thousands of applications while offering reduced weight and a no-stick surface. It does not rust and comes with a ten year warranty.
EQUIPT machines are available in three models - PolyPro, EconoPro and Econo - in capacities from 1325 to 3125 l. Units can be ordered in trailer, skid or truck-mounted versions. Options include spray bars for high volume sealcoating, power rewind hoses with remote control and a trailer extension for additional tools or for mounting a cracksealer kettle.