50 years of Rack & Pinion
In the mid 1950's, Alvar Lindmark - the inventor and founder of Alimak - presented a whole new concept for vertical transportation, inspired by the old traditional story: "Jacob's Ladder". The idea was to offer the construction and mining industry a replacement for old and dangerous equipment with an easy to assemble, easy to use and powerful combination of a hoist and a work platform.
The invention got a very warm welcome, and the rack and pinion concept - as the name was changed into when moving from idea to finished product - soon became the preferred solution for the construction industry as well as for leading mining companies.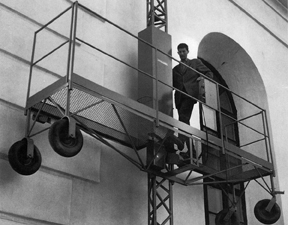 Fifty years after the introduction, this invention is one of the main reasons why Alimak Hek today is the market leader in vertical access for the construction and general industry. Rack and pinion based equipment is used in projects throughout the world wherever reliability, productivity and safety is important factors: From the Eiffel Tower in Paris and the Statue of Liberty in New York, to housing complex in Mecca, Saudi Arabia. From buildings in extreme cold (as a research station in the Antarctic) to desert and offshore based projects.
Eight out of the ten highest building projects in the world has chosen Alimak rack and pinion hoists (among them the 508 m Taipei 101 building), as well as the highest bridge in the world (the Millau Viaduct, that connects the international highway between Paris and Barcelona) and Europe's highest residential block (the spectacular Turning Torso, Malmö, Sweden).
Today, more than 30 000 Alimak Hek rack and pinion solutions have been delivered world wide, including Alimak Raise Climbers - for raise driving in mines and civil engineering projects under ground, Hek mast climbing work platforms and transport platforms for all types of construction projects, and the Alimak Industrial lifts as well as the construction hoist family - The Alimak Scando.
And the figures keep raising. With the introduction of Alimak Scando 650 and the high-speed Alimak Scando 650 FC-S - which made its very first appearance at Bauma 2007 - Alimak Hek has set yet a new standard for vertical access.
Source: Alimak AB