Where there's Muck...
There was a lot of muck, and a great deal more at the recent McCloskey International Open House event held at their works near Peterborough, Ontario.
This two-day event showcasing the latest models, live demonstrations and plant tours came between the National Heavy Equipment Show and bauma + mining, making the McCloskey crew a busy bunch.
Although wet and blustery weather was the backdrop for this endeavour, a continuous stream of visitors paraded through the displays. With Spring in the offing only the most serious contractors chose to trek through the muddy venue to take a hard look at the new S130 and S190 as well as the 621 and 412 trommels. They were not to be disappointed. Several area contractors also participated in the event with their equipment and personnel, which is always a strong endorsement for a manufacturer. Compliments and regards go out to Phil Comartin, Donnie Young and Jeff Cheshire for their support in making this a worthwhile event.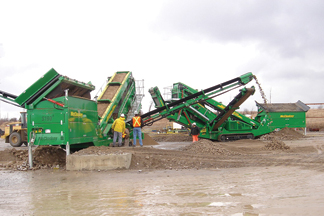 Inside, a warming drink and a presentation of McCloskey equipment working throughout the world awaited attendees. A personalized tour could also be arranged of the ever-expanding manufacturing facility. Included in the plant is a state-of-the-art paint facility, assembly area and a large check-out and service bay area.
Ever advancing and efficient manufacturing allows McCloskey to enhance customer service and product quality demanded of top performing machinery. McCloskey International is set upon continuous innovation and product support to users everywhere.