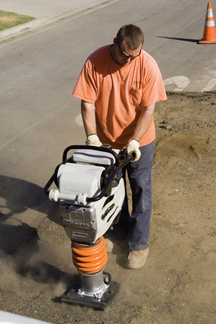 Add Work Time, Cut Sick Time with MTX Rammers
Multiquip's three new MTX-Series rammers take the tough work, the fatigue, and the strain out of compaction.
Each model incorporates an exclusive anti-vibration system (AVS) which significantly cuts vibration to the user for greater productivity on the job site while reducing the risk of injury caused by operator fatigue.
The MTX-70, MTX-80 and MTX-90 gasoline-powered models deliver up to 1600 kg of impact force for effective compaction of cohesive and mixed soils. Each rammer excels in trench work, around retaining walls, when solidifying bases for concrete slabs and footings, and in confined areas.
The MTX-70 delivers 1300 kg of impact force on 645-695 blows/min. Fueled by a 3 hp Honda GX100 engine, this model weighs 75 kg. The MTX-80 generates 1400 kg of centrifugal force and is driven by a 3,5 hp Robin EH-12-2D engine. The rammer weighs 83 kg. The hardest hitter in the series - the MTX-90 - generates 1600 kg of impact force on 660-700 blows/min. It weighs 89 kg and is also powered by a Robin EH-12-2D engine.
All three MTX Series rammers feature recoil start, travel speeds of up to 12 m/min, and diaphragm carburetors that allow operators to transport the unit without flooding the engine. The shoe width is 285 x 340 mm on each model.
Source: Multiquip Inc.