Balluff's New Emergency Stop for Safety Over IO-Link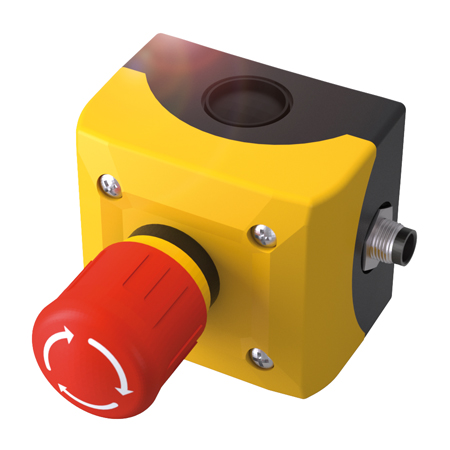 Balluff has added an Emergency Stop device
(E-Stop) to widen further the safety product portfolio. Balluff's E-Stop is easily and inexpensively connected directly to the Balluff "Safety Over IO-Link" module or to any safety controller using standard M12 connectors, eliminating terminations and reducing the incidence of miswiring.
"These devices are used in a variety of industries from automotive to packaging and E-Stops are a core component of almost every machine design and safety risk assessment," says Shishir Rege, safety marketing manager at Balluff Inc.
The E-Stop function is a supplementary protection measure and must always be available for any automated equipment.
The E-Stop switch initiates an immediate stop command and can be used for personal protection functions. An available adapter allows this device to easily daisy-chain to multiple E-Stop locations on one machine. This connectorized E-Stop switch can "plug & play" with the Balluff "Safety Over IO-Link" hub to create a simple, flexible and modular safety solution.
"The total cost of ownership of E-Stop installations is reduced with this new device due to simplified wiring, lowered assembly labor, and easier troubleshooting," continues Mr. Rege.
Source: Balluff Inc.