UK's Largest Flat-Top Crane Lands at Heathrow Airport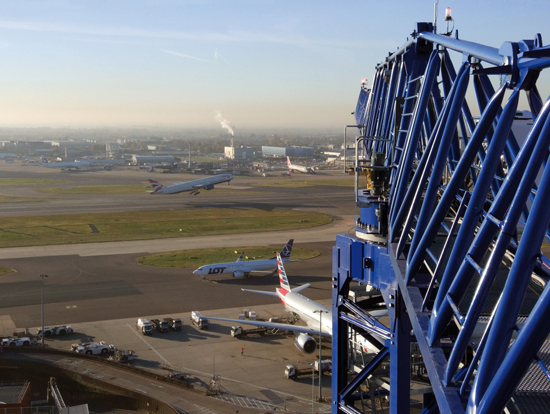 With almost 80 million passengers in 2017, Heathrow airport in London is one of the world's busiest in traffic. Thousands of travellers use this huge airport every day to fly away, arrive on destination or take a connecting flight, making it more and more necessary to have hotels in its own premises.
Heathrow currently houses 2 hotels only, in Terminals 4 and 5, located opposite the runways and far from the heart of Heathrow, the Central Terminal Area with Terminals 2 and 3.
Starting in May 2017, the Arora Group is building a new 14-story hotel next to Terminal 2, also known as The Queen's Terminal. An essential part of the work is being done by a 21LC750 tower crane, supplied by rental company City Lifting, dealer of Linden Comansa in the UK.
To lift the heavy prefab modules of up to 13,200 kg, City Lifting installed a special model of the 21LC750 crane, with maximum load capacity of 50 t instead of the regular 48 t. This increase in the load has been possible thanks to a new and lighter trolley/hook set and the use of compact wire rope, which improves not only the maximum capacity but the entire load diagram. The design, used on this 21LC750, is also used on a brand new model of large tower crane that Linden Comansa will launch very soon.
The 21LC750 in Heathrow was erected with a freestanding height of 51.3 m and jib length of 55 m. With such configuration, de jib-end load of this special model is 16,200 kg, being able to lift up to 17,280 kg when using the PowerLift system, which comes as standard in all Linden Comansa flat-top cranes.
Source: Linden Comansa