Mack® Granite® MHD Enhancements Increase Application Flexibility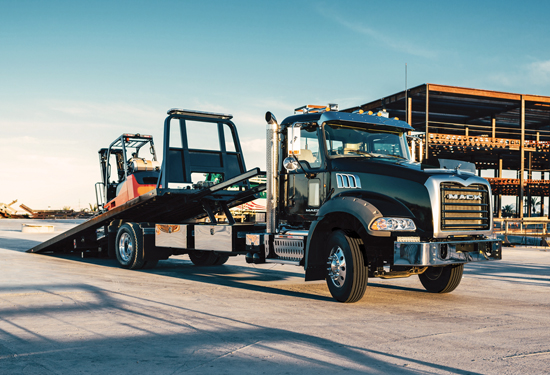 At the Work Truck Show, held last month in Indianapolis, Indiana, Mack Trucks announced several new enhancements to its Mack Granite MHD model, increasing its versatility and enabling even more cost-effective choices for customers demanding a durable but lighter work truck.
The enhancements include an additional horsepower rating, a new under-frame exhaust system, a shorter wheelbase 4x2 configuration and a tractor configuration, expanding application coverage.
"Vocational customers have a wide variety of needs," said Tim Wrinkle, Mack Trucks construction product manager. "Some require lighter weight options but still need their trucks to meet the difficult demands of the application. The MHD model delivers both without compromise."
The MHD, equipped with the Cummins L9 engine, now features a lower horsepower option, allowing customers to specify an engine with 330 hp and up to 1,000 lbf ft of torque. The lower horsepower rating offers customers yet another option to increase their ROI.
A new under-frame exhaust gives customers more options for body adaptation, further expanding application capabilities, such as tankers, flatbeds, box trucks, cranes and certain municipal applications.
The MHD model can be specified as a Class 7 or Class 8 vehicle, is offered in either an axle back or axle forward configuration, and is available as a 4x2 or 6x4, offering customers the flexibility to choose between a heavy-duty and a lighter-weight medium-duty option. An axle back tractor option meets the needs of light tractor applications requiring maneuverability, flexibility and durability without extra weight.
A shorter wheelbase is also now available for the MHD model in the 4x2 configuration, ideal for the 3 m dump body commonly used in municipal applications, and in general, providing a more maneuverable, cost-effective option.
Source: Mack Trucks