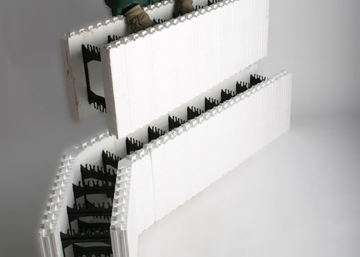 Amvic to Release a New 12" ICF
On June 1, 2007, Amvic Building System released a new 31 cm Insulated Concrete Form (ICF) to complete its current line of 6 cm, 15 cm, 20 cm and 25 cm forms. The new form will be available in a straight form and in a 90° form.
Amvic ICFs are manufactured using very rigid panels, therefore maintain shape, remain straight and plumb and require less bracing during concrete pouring and curing. Amvic is one of few ICFs on the market that can withstand internal vibration which ensures proper concrete consolidation and creates a structurally superior wall.
Amvic ICF also features the unique, fully reversible FormLock interlocking system which has considerably deeper grooves than competing products. This provides greater connection strength and eliminates the need for gluing or taping.
Not only does Amvic provide a superior product which provides many benefits to the builder and occupant, it is also Green. Amvic ICFs use 60% recycled materials, reduce deforestation and Amvic ICF structures reduce energy consumption by 30-50% on average as well last for over a hundred years with limited maintenance.
These recent progressive investment decisions clearly indicates that Amvic is determined to increase sales in the commercial segment of the ICF industry and is dedicated to meeting the needs of their customers.
Source: Amvic Building System