Cinelli Iron Gets a Fresh Start with State of the Art Facility and Service
---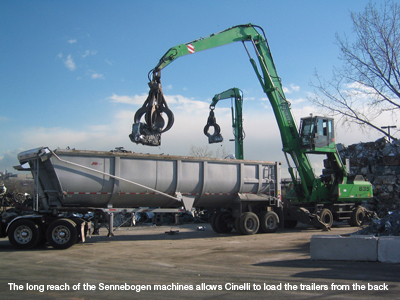 Constantino Lannes, Sennebogen LLC ,
Special Collaboration
At the ripe old age of 24, Joe Cinelli Jr. has already learned what most old-timers know about how to make his recycling business successful. It is all about uptime.
"We're not like one of the big port operations," says Joe Cinelli Jr. "We've got no spare equipment in the yard. If a crane goes down, our shear isn't working; we lose that production."
He began working in the family business, Cinelli Iron & Metal Co., when he was 18. His father, Joe Cinelli Sr., started the recycling operation in the 1970s, hauling scrap to recyclers in his pickup truck from machine shops in Jersey City. By the late 1990s, Cinelli Iron was collecting, processing and brokering a full range of scrap metals through its facility in Hackensack, New Jersey.
Joe Cinelli Jr. entered the business as an equipment operator. Today, he is responsible for the operation of Cinelli Iron's brand new site in Secaucus, New Jersey. The former location in Hackensack continues to process specialty materials, but the company's large volume of ferrous is focused on this new 2 ha yard.
In Hackensack, the Cinelli yard is just a half-acre in size but, as the business grew rapidly through the past 15 years, it drew considerable traffic through its largely residential neighborhood. The Cinelli family decided that moving to another larger location would be best for both the business and the town.
Joe Cinelli Jr. is very proud of the site he manages. "This is a state-of-the-art facility," he says. "All five acres is paved. We have underground sewers beneath it with separators to clean storm water runoff. We have plenty of space now, and we meet all the new state environmental regulations. We're shipping a couple of thousand tons a week and we process all types of steel, right up to I-beams."
While much of the heavy equipment from the Hackensack location was moved to Secaucus, Cinelli has also been adding new equipment to handle the expanded capacity. When the company went looking for new machinery, it also made a key decision about its service requirements.
According to Joe Cinelli Jr., "We were looking for options after our experience with some of the older equipment. We wanted to get all the equipment we needed from one company. That way, if there are any problems, we don't have to call 100 different suppliers."
Joe Cinelli Jr. knew Binder Machinery as the Komatsu equipment dealer servicing its wheel loaders and, more recently, as New Jersey's distributor for Sennebogen scrap handling machines. He has been working with Binder Machinery for about 6 years and, on closer inspection, decided that Binder Machinery was the "single source" he was looking for.
When Cinelli opened up the idea of designating Binder as their single source for equipment, Steve Mazzarella, Binder's sales representative, was ready. "I asked our senior people in the region to get involved," says Mr. Mazzarella. "Kirk Chagnon, our North Jersey sales manager, and Roy Corriveau, our product support manager, were able to provide the assurances that the customer needed."
The Binder team works together to keep service simple for customers. In one instance, Cinelli had a recurring problem with a grapple. A change had been made in the type of hoses it used, and hoses started breaking. Roy Corriveau came in and he saw what the problem was and got it fixed himself instead of going to the manufacturer.
Setting up the Secaucus yard required investment in primary equipment including a Komatsu PC400 with a 4500 LaBounty Shear and a Sierra 700 baler/logger. Binder recently supplied Cinelli with a Komatsu WA320-5 wheel loader, which has also proven to be a wise acquisition. Cinelli Iron & Metal Co. also maintains a fleet of 15 trucks, with 11 roll-offs and has over 1000 containers in service. The move to the new site also included relocation of two Sennebogen scrap handlers, and a third machine has already been added.
All three Sennebogen machines are rubber-tired models, well suited to mobile service throughout the large, paved yard. They are also equipped with Sennebogen's elevating cab, which can raise the operator an extra 6 m above the chassis for a clear look into the equipment being loaded. An 835 M model scrap handler is dedicated to feeding material to the shear, while an 825 M equipped with a magnet, shifts between loading or unloading trailers and feeding the burner. The newest unit, another 825 M, is fitted with a grapple to load trailers. In a typical day, the Secaucus yard will send out over 10 loaded trailers to customers.
The switch to Sennebogen has also led to maintenance advantages. "They are well built and the service areas are very accessible," Joe Cinelli Jr. explains. "On the other machine, you had to take apart the whole back end to reach the radiator; now just open the doors and everything is right there. We try to keep a good stock of parts on hand, but Binder is also good on having what we need."
The close relationship Cinelli is building with Binder Equipment is also a good fit for the company's family focus. The Cinelli business embraces several family and close friends. While the Secaucus site has a young staff overall (all of the equipment operators are under 26 years old!), Joe Cinelli Jr. believes that traditional "family values" are important to the business and he sees a common ground with the family roots at both Binder and Sennebogen.
"Erich Sennebogen was here from Germany a couple of weeks ago," he recalls. "He is a really nice guy; we took some pictures together with the cranes all up. But you can tell he really cares about his equipment. His name's on it. When you put your family's name on your equipment or business, it's the same for all of us. It's your personal promise of dependability."