Fordia Commercializes its First Drill Rig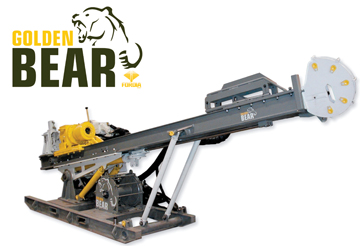 Led by the increasing demand of the mineral exploration industry, Fordia introduces a new sure value product, the Golden Bear 1400m NQ drill rig. Powerful and reliable, this Canadian surface diamond rig offers great performances and drills up to 1800 m with BQ rods.
The Golden Bear is designed intelligently for more efficiency and simplicity. Its modular structure facilitates assembly and manipulation, and accommodates most drill rods, including P sizes. It is also possible to upgrade the rig for even greater depth capacity (up to 2000 m), by changing the feed cylinder and rotary head and keeping the same structure.
The Golden Bear uses a technology that is simple, and that has proven its value and its reliability. In rare cases of breaking, it is easy to repair and does not require a specialized mechanic. Moreover, its pieces are standard sizes and are available easily thorough the world.
Manufactured in Val d'Or, a cornerstone in the mineral exploration industry, the Golden Bear has been developed by a team that has more than 20 years of experience, and this is what makes it such a reliable tool. Its five pulley system, ensures a better cable lifetime by distributing equally the weight, and is a great feature of its sturdy structure.
"The Golden Bear rig is the very first drill rig marketed by Fordia", says Gabriel Allen, vice-president of sales and marketing "it is a great added value to our actual product line, since Fordia already distributes the Versadrill drill rigs, which are having a great success since many years». The Golden Bear 1400m NQ complements perfectly the 0.4kmB, 0.8kmB and the 1.4kmB Versadrill rigs, actually sold at Fordia.
Source: Fordia Group