Atlas Copco hydraulic breakers and crushers chosen for sensitive demolition project in Brazil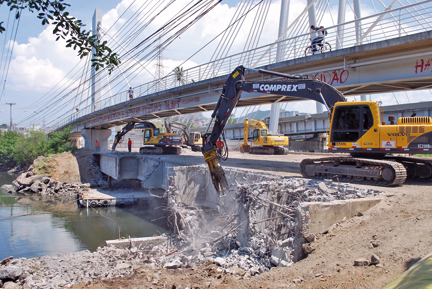 Brazilian demolition specialist Comprex Ltda. was chosen to demolish a bridge connecting important districts in the city of Vitória, in the state of Espirito Santo. Since, for environmental reasons, debris was not permitted to fall into the waterway under the bridge, special arrangements had to be made for the removal of the demolition waste. Atlas Copco hydraulic breakers and CombiCutters were chosen by Comprex to handle the job.
At the jobsite, three new bridges have been built over the old bridge, which was no longer able to support the increasing volume of traffic crossing between the city districts. The old bridge, comprising 1,300 m3 of reinforced concrete, needed to be removed.
For Comprex the demolition sequence started by removing the light structures, such as the parapet, concrete surfacing, etc. This was done using HYPERLINK "http://www.atlascopco.com/sbbreakersus" an Atlas Copco SB 452 hydraulic breaker. After that came the heavier task of removing the concrete layer from the beams and finally the 10 beams themselves.
Two Atlas Copco MB 1700 hydraulic breakers and two CC 1700 CombiCutters, mounted on Volvo EC 210 and CAT 416E carriers, made light work of the heavier tasks. The demolition debris was received in a special boat and transported to a recycling plant.
The stipulation that debris was not permitted to fall into the river demanded a particularly careful and precise approach to the demolition.
Ronaldo Zucchi, owner of Comprex, relates that the powerful Atlas Copco CC 1700 CombiCutters gave accurate positioning and cut the concrete easily.
"The MB 1700 and SB 452 hydraulic breakers gave impressive performance on the very hard concrete. The efficient combination of Atlas Copco hydraulic breakers and CombiCutters gave us the confidence to accept the challenge and was a decisive factor for us in winning the contract from the City of Vitória."
Comprex Ltda. has a long-term partnership with Atlas Copco and owns a large amount of Atlas Copco equipment.
Source: Atlas Copco