Canada's Longest Established Sullair Distributor
Acquires a Maritime Partner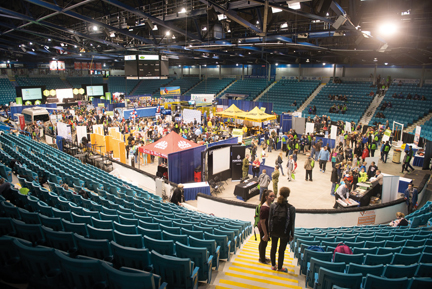 Comairco Equipment Limited, a distributor of Sullair electric and diesel compressors in Canada and the U.S., has acquired Atlantic Compressed Air Limited, the Sullair distributor for the Atlantic provinces.
Established in 1972, one year prior to Atlantic Compressed Air opening their doors, Comairco grew up in Canada's industrial heartland. Headquartered in Laval, Quebec (just north of Montreal), Comairco has grown into a company spanning no less than 4 provinces: Quebec, Ontario, Manitoba and Saskatchewan; and 2 U.S. states: New York and New Jersey.
With more than 180 employees and 19 branches, the acquisition of Atlantic Compressed Air firmly positions Comairco on the eastern seaboard and adds 4 more branches to the company – and an additional 80 years of compressed air industry experience to its team.
Atlantic Compressed Air unveiled its new Comairco-styled logo, and highlighted its new relationship as a division of Comairco Equipment Limited, at the 2016 Skills Canada National Competition, held June 5-8, in Moncton, New Brunswick.
This National Competition hosts apprentices and trades people from across Canada and showcases not only skills, but also new technologies in manufacturing and fabrication.
Atlantic Compressed Air provided not only the compressed air for the venue (installing a Sullair 100 hp 7500B compressor alongside a Sullair RD400 dryer and tank), but also all of the materials and labor for plumbing the show floor with TransAir Legris piping to distribute that compressed air and meet the needs of the pneumatic machines used in the competition.
"We couldn't think of a more fitting forum to introduce the nation to our new relationship!," said Tom Bourgeois, manager at Atlantic Compressed Air.
"In our 40-plus year partnership, we've watched Comairco steadily expand throughout Canada and the Northeastern United States," said Kent Van Sickle, eastern regional sales manager for Sullair. "Comairco's acquisition of Atlantic Compressed Air will add to their capacity and geographic presence, and we will fully support their expanded market share. Comairco's commitment to superior service and broad offerings will surely lead to success in the region."
Source: Comairco Equipment Limited