DEUTZ XChange to Provide Remanufactured Engines for JLG's
AWP Reconditioning Program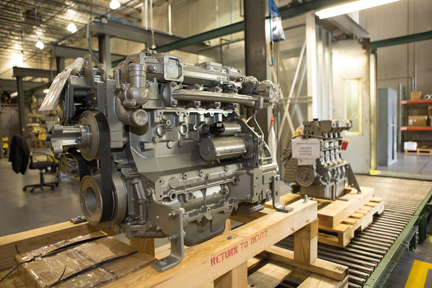 DEUTZ Corporation will provide JLG Industries, Inc. with DEUTZ Xchange remanufactured engines for its aerial work platform (AWP) reconditioning program.
"JLG was particularly pleased with the 3-year transferrable warranty that we offer on all our DEUTZ Xchange engines," said Robert Mann, DEUTZ Corporation's president and CEO. "That warranty, our quality product and the fact that our remanufactured engines can be serviced by any DEUTZ distributor were key factors that helped us earn this business."
According to Christopher Mellott, JLG Industries vice president of aftermarket sales in North America, the JLG reconditioning program is a leader in the lift and access, construction and rental industries, thanks in large part to the scope of work. "JLG has very strict OEM guidelines that we follow for all of our reconditioned products.
Our scope of work is very detailed, making our reconditioning program similar to our new manufacturing program. In the end, customers receive a machine that has the same reliability as a new one."
The program provides buyers looking to grow their fleets or replace worn equipment with an option at approximately half the cost of a new unit.
The DEUTZ-JLG partnership has already begun to pay dividends for both companies. One of North America's largest equipment rental companies recently purchased 137 reconditioned AWP units from JLG, explicitly requiring that DEUTZ Xchange engines be installed in each.
Source: DEUTZ Corporation