World Premiere of the New Hatz 3-cylinder Diesel Engines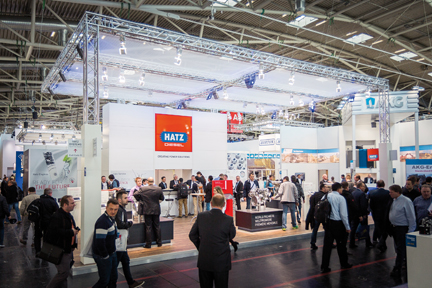 The first Hatz 3-cylinder models will go into series production in 2018. They will expand the H-series with powerful, efficient and compact engines. Hatz presented the new engine family at bauma 2016, held last April in Munich, Germany.
The concept of the new 3-cylinders aims to be an ideal solution for today's compact machine class up to 50 hp. The goal is not only to house engines in a compact installation space, but the form and operation of the machines must also remain unchanged. If exhaust emission after-treatment becomes necessary, the little brother of the 4-cylinder engine profits in particular from the compactness and the low raw emissions of the H-family.
The industry has been successfully practicing the downsizing concept for years. As such, the 1.5 l Hatz 3H50 will replace engines with displacements over 2.5 l.
The torque and response behavior are considerably superior to the present generation. At the same time the fuel consumption values are significantly reduced. This could be achieved, amongst other factors, thanks to its sophisticated combustion chamber geometry, Bosch injection technology, minimized friction and a charge air pressure of 1.7 bar ensure the right dimension of power in less than a 0.2 m3.
Following the family concepts, the various 3H50 models are also orientated on the currently valid and future emission standards.
The Hatz 3H50TIC was primarily developed for the U.S. market and Canada as well as some Asian countries. In order to ensure compliance with the emission standards US EPA Tier 4 final and EU Stage IIIB, the proven combination of an external gas recirculation (EGR) and a diesel oxidation catalyst (DOC) reduces substances potentially harmful to the environment to the required level – without the need of a diesel particulate filter (DPF).
Source: Motorenfabrik Hatz