User-Friendly Tab Lists North American Dealers with Access to Supply of Airless Radial Tires for Skid Steer Loaders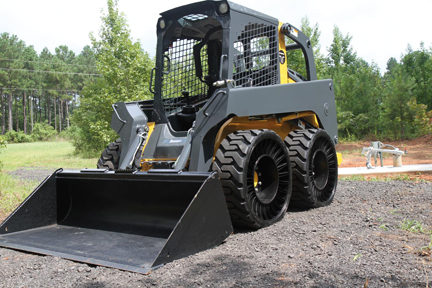 Michelin Tweel Technologies has updated its dealer locator tab on its website, enabling customers to locate dealers who sell the award-winning MICHELIN® X® TWEEL® SSL airless radial tire in their area. The new tab is specifically designed for ease-of-use, offering one-click access to all key dealer information and available inventory for the MICHELIN® 12N16.5 X® TWEEL® SSL All Terrain and Hard Surface.
The X TWEEL SSL is Michelin's highly advanced airless radial tire designed for skid steer loaders. The only commercial product available to offer the advantages of no maintenance, no compromise and no downtime – the X TWEEL SSL requires no air, thereby eliminating the risk of a "flat tire". The X TWEEL SSL also provides industrial, construction, agricultural and landscape users the advantages of no air pressure maintenance, easy mounting, damage resistance, increased operator comfort, reduced operator fatigue and improved productivity.
The tab includes all dealers across the U.S. and Canada. Users can search dealers by location (address, city, state) or by ZIP code. The tab can also be used to locate the MICHELIN® X® TWEEL® TURF™ that is available exclusively on new John Deere ZTrak™ 900 B, M or R Series mowers.
Source: Michelin North America

Watch these videos: