Université Laval Retakes Shell Eco-marathon Americas Title
from University of Toronto
The 10th Shell Eco-marathon Americas ended on April 24 with 2 perennial favorites battling along the Motor City's riverfront and downtown streets to see which custom-built, ultra-energy-efficient vehicle would travel the farthest distance using the least amount of energy. The Université Laval team from Quebec regained the title from its Canadian rival, the University of Toronto.
The Laval team recorded 0.091 l/100 km (2,585 mpg) with its gasoline-fueled prototype, but that mark fell short of its record 0.066 l/100 km (3,587 mpg) set in 2013.
The University of Toronto team, whose vehicle finished with a best run of 0.099 l/100 km (2,364 mpg), had hoped to surpass its chief competitor's mark on its final attempt, but its vehicle failed to start.
More than 1,000 students from a record 124 teams representing 7 countries – Brazil, Canada, Ecuador, Guatemala, Mexico, Puerto Rico and the U.S. – competed over 3 days with 2 classes of vehicles. The Prototype class invites students to enter futuristic, streamlined vehicles, and the UrbanConcept class focuses on "roadworthy" fuel-efficient vehicles aimed at meeting the real-life needs of drivers.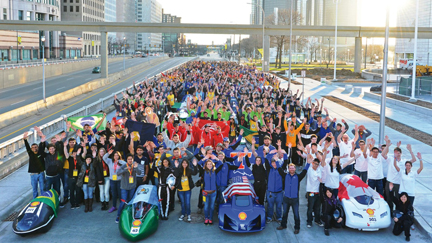 Entries are divided by energy type:
Internal combustion engine fuels: gasoline, diesel, liquid fuel made from natural gas and ethanol.
Electric mobility: hydrogen fuel cells and battery electric.
The Winning Teams
On Saturday and Sunday, the vehicles drove 10 laps for a total distance of 9.65 km around the circuit at an average speed of 24 km/h. The winners in each class follow, based on vehicle class and energy source:
Prototype gasoline: The Alérion Supermileage team, Université Laval of Quebec City, Quebec, 0.091 l/100 km (2,585 mpg).
Prototype diesel: ShopGirls team, Granite Falls High School of Granite Falls, Washington, 0.21 l/100 km (1,115.1 mpg).
Prototype battery-electric: Beyond team, Université de Sherbrooke of Sherbrooke, Quebec, 731.4 km/kWh (454.5 mi/kWh).
Prototype hydrogen fuel cell: Queen's Fuel Cell team,Queen's University of Kingston, Ontario, 135 km/m3 (83.9 mi/m3).
Prototype alternative: Tatonkatoo team, University of Colorado at Boulder, Colorado, 0.19 l/100 km (1,214.3 mpg).
UrbanConcept gasoline: Mater Dei Supermileage team, Mater Dei High School of Evansville, Indiana, 0.30 l/100 km (793 mpg).
UrbanConcept diesel: Knights 3, Alden-Conger High School of Alden, Minnesota, 0.45 l/100 km (525.1 mpg).
UrbanConcept battery-electric: Experimental Vehicle Team Alpha, Saint Thomas Academy of Mendota Heights, Minnesota, 84.8 km/kWh (52.7 mi/kWh).
UrbanConcept hydrogen fuel cell: EcoCar Team, University of Alberta, Edmonton, Alberta, 66 km/m3 (41 mi/m3).
UrbanConcept alternative fuel: Let's Do It Again 2, James B. Dudley High School of Greensboro, North Carolina, 173.3 l/100 km (107.7 mpg).
The event began 31 years ago in Europe and in addition to the Americas competition, Shell Eco-marathon is held annually in Europe and Asia. The unique competition challenges students around the world to design, build and drive the most energy-efficient cars.
In fact, UrbanConcept teams from across the Americas, Asia and Europe will compete at the first Shell Eco-marathon Drivers' World Championship, taking place on July 3, 2016 at the iconic Queen Elizabeth Olympic Park in London. The winning team will earn an invite to spend one week with Scuderia Ferrari at its facility in Maranello, Italy, where team members will receive personal coaching and advice from its engineers on how they can improve their car for the 2017 Shell Eco-marathon.
Teams headed to London with their vehicles include:
Mater Dei High School, of Evansville, Indiana
Alden-Conger High School, of Alden, Minnesota
Saint Thomas Academy, of Mendota Heights, Minnesota
Newburgh Free Academy, of Newburgh, New York.
Additional teams as guest spectators are the University of Alberta, of Edmonton, Alberta, and the University of Illinois, of Champaign, Illinois
Source : Shell Oil Company

Watch the video: