Supermétal to erect a prestigious 50-story commercial tower in Calgary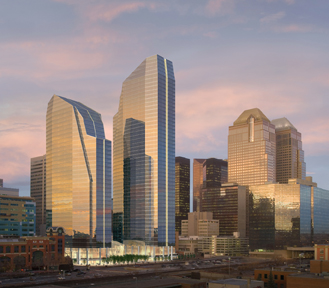 Structural steel manufacturer Supermétal Structures Inc. of Saint-Romuald announced today it was awarded by Ellis-Don Construction the mandate to manufacture and install the structure of Eight Avenue Place in Calgary, better known as Penny Lane Towers. This prestigious $1 billion project consists of a futuristic 50-story office and commercial tower in the heart of Calgary's financial core. This order, estimated at more than $50 million, will necessitate the assembly and delivery of 11 000 t of structural steel fabricated in the company's three plants, located in Edmonton, Alberta, Sherbrooke and Saint-Romuald, Quebec. The installation is scheduled to begin in June 2009.
"This major contract confirms Supermétal's breakthrough in Alberta" declared Jean-François Blouin, Supermétal Structures General Manager. "The fact that we have been selected for this prestigious project demonstrates Supermétal's stellar reputation as well as the utmost appreciation of our quality service, our trademark in the industry," he said.
When completed, the Eight Avenue Place office tower will add one million square feet of office space to the Calgary market. This Triple-A Class building will feature the latest innovations and is aiming for the environmental LEED Gold certification. A second 37-story tower is planned and will be built based on the success of the first one.
Today's announcement is the latest in a spate of new contracts for Supermétal in Alberta. The manufacturer was recently awarded a 2000 t contract to fabricate and erect the structural steel for the United Horsemen of Alberta's Racing Entertainment Centre in Calgary, a world-class facility that will accommodate over 10 000 racing and entertainment enthusiasts and offer an array of services. The company was also selected by Hitachi America to fabricate the Turbine building, Pump House, Water Treatment and Control Room buildings at the Epcor/TransAlta-owned Keephills 3 expansion generating facility, a 3000 t mandate.
Source: Supermétal Structures Inc.