On the Road With the BM 214 Truck-Mounted Forklift
Roy Seifert has worked as a driver for the Bavarian building materials company Huber & Riedel GmbH since 1997. He uses the BM 214 truck-mounted forklift daily for a wide variety of applications.
When he pulls up in his truck, the BM 214 is not immediately visible. It is stored inside a compact transport box. But then it only takes 30 seconds for the truck-mounted forklift to drive out of its box and be totally ready for action. Regardless of whether it is working on paved sidewalks, narrow underground car parks or bumpy gravel tracks, experienced drivers can deliver to even the most remote construction sites.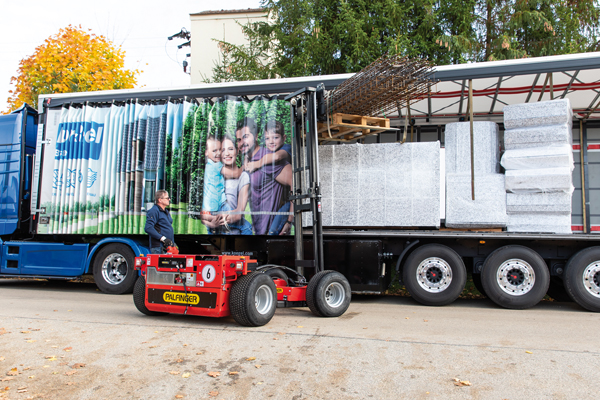 With its maximum lifting capacity of 2,100 kg, the BM 214 truck-mounted forklift can also handle heavy loads. It owes its excellent off-road capability to permanent all-wheel drive combined with compact dimensions. Because it is housed inside the transport box, the BM 214 remains protected from salt water and dirt in winter.
Due to its compact size, it can reach places where a loader crane sometimes has less leeway, like at the far end of narrow alleys, which is perfect on some construction sites.
Source: PALFINGER AG