Volvo Penta D11 Makes Øveraasen RS 400 a Run(a)way Success
Dashing through the snow, in a 428-hp Øveraasen RS 400 runway sweeper, operators at Sweden's Skellefteå Airport make light work of heavy snowfall thanks to the immense power and extreme-weather reliability of its Volvo Penta D11 engine.
With the sun's total disappearance each winter paving the way for up to 3 m of snow, much of Sweden's northernmost region of Norrland would be completely cut off and virtually uninhabitable for several months of the year if it was not for the highly efficient machines manufactured by the likes of Øveraasen AS. Producing a comprehensive array of equipment that allows roads, railways and airport runways to be swiftly cleared of all varieties of snow, ensuring vital transport links remain open, the Norwegian manufacturer celebrates its centenary of "Snow How" this year – and a key part of that expertise has been accumulated through trusting in the abilities of the powerful, reliable industrial engines supplied by Volvo Penta.
Few places highlight these advantages better than Skellefteå Airport, one of Sweden's 10 busiest domestic terminals, lying just 250 km below the Arctic Circle on the Gulf of Bothnia. Like many major airports battling similar climates, it relies heavily on runway sweepers to ensure safe landings and departures in otherwise prohibitive conditions.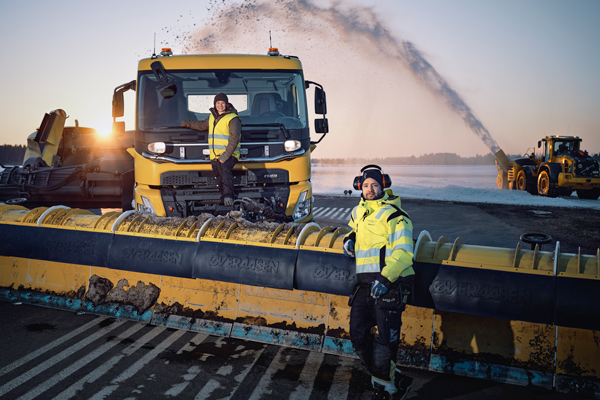 As one of the most prestigious models in Øveraasen's portfolio, the RS 400 boasts some impressive snow clearance statistics. With a Volvo FMX tractor unit pushing the 6.18 m-long blade up front, snow can be displaced at speeds of up to 65 km/h, at up to 357,500 m2/h – meaning Skellefteå's pair of RS 400s can prepare its 2500 m-long runway in just 8 minutes, moving an average of 22,000 t/h of snow.
But, just as importantly, the rear module houses a Volvo Penta D11 engine, featuring common-rail fuel injection and a fixed geometry turbocharger. Driving the 6.24 m-long revolving brush, and a fan that is effectively 5 times more powerful than a hurricane, the D11 ensures that all remaining snow is effortlessly dispersed.
Providing almost instantaneous maximum torque (1938 Nm at 1400 rpm), and maintaining it all the way through a wide engine speed range up to rated power of 315 kW (428 hp), the RS 400's TAD1183VE engine delivers efficient fuel consumption and low noise levels without compromising on performance.
"When you're dealing with machines like these, unscheduled stops are unacceptable – they need to be able to go from 0-100% in the blink of an eye, even while operating in extreme weather conditions," explained Anna Maria Ullnert, director Global Business Development, Industrial Sales at Volvo Penta. "To achieve this, the engine needs to have plenty of power and momentum – in other words, high torque."
Given the easy-to-service nature of the D11 range and its proven compact base engine development, instances of prolonged or unexpected downtime are rare. Additionally, Øveraasen makes doubly sure its machines provide instant availability by choosing engine packages equipped with a pre-heater that support engine starting in ambient temperatures below -15°C.
Maximum uptime – not to mention low cost of ownership – is further ensured with extended oil change intervals of 1,000 hours, and the D11's reliable Exhaust Aftertreatment System (EATS). This leverages Volvo Penta's long experience of using DPF and SCR systems, contributing to efficient combustion, while adding DOC and uncooled EGR technologies to efficiently meet Stage V emissions requirements. This concept also lowers the amount of cooling capacity needed, thereby minimizing the radiator size.
"One of the things we do that separates us from our competitors is that we supply the engine in one complete package ready to be installed," said Ms. Ullnert. "That package consists of a lot of different parts, such as cables, filters, exhaust flanges, a cooling package and an aftertreatment system. Instead of our customers dealing with several suppliers and adjusting all parts separately, Volvo Penta offers a single point of contact and an engine ready to be lifted into the machine for simple installation.
"But our involvement doesn't end there – knowing the importance of uptime, we provide support on call 24/7 for the rest of the engine's lifecycle to ensure it runs effectively and reliably," she added.
Source: Volvo Penta