CM Labs and Altec Partnership Offers a Perfect Fit
for the Utilities Market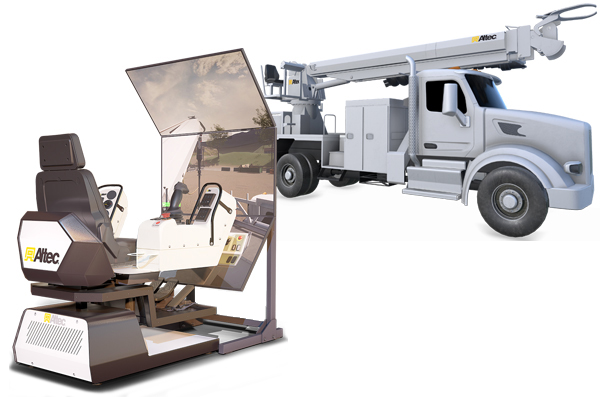 CM Labs Simulations recently announced a partnership with Altec. The collaboration will create and provide Altec-branded simulation training systems designed to help organizations offer instruction for the Digger Derrick and preparation for operator certifications. The first product release from the collaboration is the Altec Sentry Simulator, offering a training solution for their Digger Derrick that allows increased machine practice time with decreased operating costs and minimal risk. The Sentry also includes preparation for CCO (formerly the National Commission for the Certification of Crane Operators) crane certification exams.
CM Labs' white-label OEM program provides manufacturers and dealers with solutions customized specifically to a specific brand, equipment, and applications. Altec provides products and services in more than 100 countries throughout the world.
Altec's Digger Derrick is fully simulated with engineering-grade authentic machine behavior baked into the training scenarios to prepare for CCO certification and has a 3-screen full-motion platform utilizing Altec's Optiview lever controls. The new training solution offers the opportunity for organizations, employers, and line worker schools in the Utility market to address critical workforce safety, training, and recruitment issues.
CM Labs demonstrated the full suite of simulation training products and featured several new products for the Utility market at The Utility Expo 2023, held September 26-28, in Louisville, Kentucky. CM Labs' wide range of earthmoving and lifting training packs include simulators for Digger Derrick, Boom Truck, Telehandler, Compact Track Loader, Rough Terrain Crane, Backhoe, Forklift, and the newly released Wheeled Excavator.
Source: CM Labs Simulations Inc.