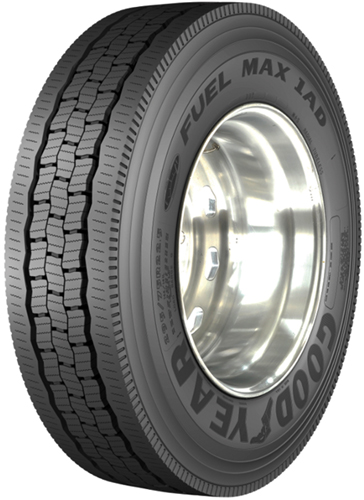 Goodyear Launches Fuel Max 1AD Tire
The Goodyear Tire & Rubber Company recently announced the launch of the Fuel Max 1AD, for single-axle drive tractors handling super regional, less-than-truckload, or LTL, applications. The tire is designed to deliver the traction features, milage and fuel efficiency today's fleets require.
The new Fuel Max 1AD is Goodyear's best premium super-regional single-axle drive tire and available now in 295/75R22.5 Load Range G. The tire is made with an innovative tread design and incorporates features and compounds meant to offer long miles to removal.
"The Fuel Max 1AD tire is designed to handle the demanding high torque seen on single axle tractors with the mileage, traction and fuel efficiency our customers demand in a premium product," said Tom Lippello, senior director, Commercial Marketing, Goodyear North America. "Its long-lasting tread design features encapsulated shoulder siping to help maintain singleaxle traction and is designed to keep your freight moving efficiently in the toughest conditions."
The Fuel Max 1AD also meets testing requirements for Three Peak Mountain Snowflake (3PMSF) standards.
The new Fuel Max 1AD is part of Goodyear's Total Mobility platform of trusted products, premier service network and complete tire management for customers. This new innovative tire is just the latest in the long tradition of Goodyear innovation. Since 1898, Goodyear has been enabling mobility and continues to stay More Driven.
In 2023, Goodyear will celebrate its 125-year anniversary by continuing to deliver the products and services that move the world.