Lhyfe and Exogen Partner to Scale Up Green Hydrogen Production
in Europe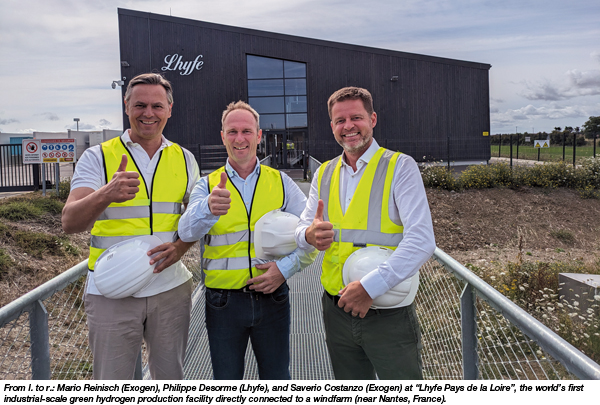 Lhyfe and Exogen Hydrogen Solutions have signed a Memorandum of Understanding for the combined offering of comprehensive decarbonization solutions for industrial steam, district heating, and mobility applications powered by green hydrogen. This paves the way for a new type of ecosystem and vast markets for green and renewable hydrogen.
The partnership includes a commercial agreement to identify potential customers across Europe. Both organizations will promote their respective products and services to the benefit of clients seeking to unlock operating synergies from integrated decarbonization solutions.
There is growing demand by multinationals and industrial clusters targeting operating synergies from combining thermal and mobility solutions powered by green hydrogen. The mobility applications are aimed at hydrogen refilling stations for commercial vehicles and cars. Thermal solutions include industrial steam, large buildings and district heating applications.
Steam production is a core component of many industrial processes with a highly valuable, continuous demand profile. Industries with a large process steam demand include pulp and paper, food and beverages, pharmaceuticals, industrial chemicals, and the oil and gas industry. Large buildings thermal applications include airports, hospitals, commercial centers, and campus heating facilities.
Exogen offers a pioneering hydrogen steam plant, the HSP 3000, featuring boiler technology by Jericho Energy Ventures.  This breakthrough, zero-emission steam plant for industrial and district heating applications is a turn-key solution. It comes preassembled in container-sized units, shipped by road transport. It has no smokestack and eliminates all NOx and CO2 emissions from industrial steam and district heating.
Lhyfe inaugurated its first green hydrogen production site in 2021. With 5 additional sites under construction throughout Europe, it aims to achieve 55 MW of installed capacity of hydrogen production by the end of 2024. Through its production sites and its portfolio of projects, Lhyfe intends to provide access to green and renewable hydrogen in industrial quantities to significantly decarbonize sectors such as transport and industry (chemicals, steel, glass, etc.).
Source: Lhyfe, Exogen Hydrogen Solutions