TORSUS and MAN Expand Collaboration With New Chassis Manufacturing Agreement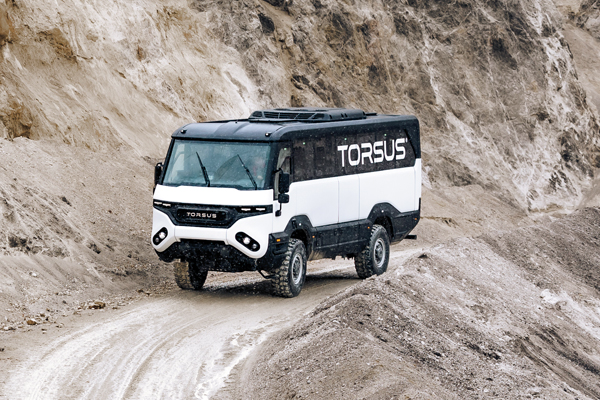 TORSUS, the manufacturer of the world's toughest, heavy-duty off-road buses, recently announced the growth of its continued cooperation with MAN Truck & Bus, following an agreement for MAN Truck & Bus to manufacture the TORSUS PRAETORIAN's skeleton chassis.
Each TORSUS PRAETORIAN skeleton produced at MAN Truck & Bus' 300,000 m2, state-of-the-art manufacturing facility.
Using similar processes and techniques to those used in the manufacturing of its own buses, MAN Truck & Bus use protective gases during the precision welding process of the PRAETORIAN's skeleton, before it undergoes cataphoretic painting for protection against corrosion, then varnishing, and finishing with a final coat of paint. All of this ensures that the product is of the highest quality possible when it leaves the factory, before heading to TORSUS' purpose-built factory in Horné Srnie, Slovakia, for final assembly.
Designed to transport up to 35 people and their equipment safely across the world's harshest environments, the PRAETORIAN is a 10-t 4x4 off-road bus based on an upgraded, heavy-duty MAN TGM chassis. It is powered by a 6.9 l 6-cylinder MAN diesel engine with 286 hp and 1,150 Nm of torque, as well as a heavy-duty 4x4 off-road transmission – sufficient for the bus to easily climb a 65% incline. The PRAETORIAN is engineered to master any terrain, in any weather conditions, anywhere in the world.
The MAN Truck & Bus Starachowice plant produces over 1,600 buses and 520 bus chassis a year, exported to customers in countries all over the world.
Source: TORSUS