GO Drilling Employ Sandvik Tools and Rigs to Follow
a Straight Line to Success

For 31 years GO Drilling from Ottawa, Ontario, has been leading the way in drilling straighter, and more productively than the competition. As the leading drill & blast contractor in the area, the company attributes its success to the skills of its employees, its vast array of Sandvik Construction drill rigs and tools, as well as its relationship with Sandvik's distributor, Selix Equipment.
Drilling straight holes in unstable rock formations is an accomplishment and GO Drilling Inc. does it all the time. This has allowed the Ottawa, drilling and blasting company to now enjoy a reputation as a "straight-shooter".
"We face lots of different types of rocks in Ontario: soft rocks easy to drill, soft abrasive rocks, and hard granite with lots of seams," says Mat Oswald, the company's operations manager. "The seamy rock is especially challenging. It is our biggest challenge in keeping straight holes and accuracy."
Seams are tricky because when a drill bit strikes a fault, the unequal pressure encourages deviation from a true course. Cohesion of the drilled material also becomes problematic and the binding force along cleavage planes is reduced. Result? The vertical hole starts wandering.
In short, it is a tough job descending from here to there in a straight line; yet GO Drilling routinely succeeds at it. "We are known for drilling straight holes," Mr. Oswald says, matter-of-factly. "We have taken work from our competitors for being able to produce straight holes through fractured rock."
Mat Oswald credits his drills and his skilled crewmembers for the company's performance, with GO Drilling being the first in Canada to turn to Sandvik hydraulic drills. Today, they own 17 Sandvik rigs. They range from one 5,000 kg Commando hydraulic unit, to five Pantera 1500 top hammer drills, each weighing 21,770 kg. Other Sandvik models in the equipment yard include one Pantera 1100, a DP1500 and a DX800.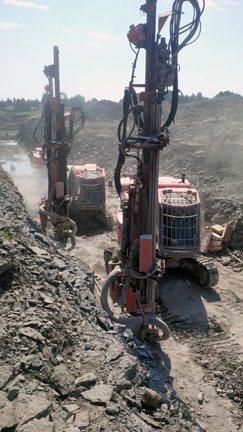 The DX's articulated boom rides on a work platform that can be rotated up to 180° to keep work in front of the operator. The superstructure is powered by a CAT diesel engine and counterweighted for optimum stability on uneven terrain. It can drill holes 89 mm to 127 mm in diameter. The DP series, just like the current DPi series, can punch holes 89 mm to 152 mm in diameter and are equipped with powerful CAT engines. The DP series are of robust construction supported by oversized components and strong feed.
"Sandvik drills always have been good for us," says Mat Oswald. "They are very powerful drills, very reliable, and it is easy to keep parts for them because they are all the same. Personally, I don't think there are any other drills like them. We have demoed other brands, but they don't seem to hold up to Sandvik's production." And, of course, the machines drill straight. "They do very well in drilling through the seams to give us straight holes."
Some of the drills' accuracy is attributed to the Sandvik Rock Pilot system incorporated in each rig. The sophisticated monitoring system typically keeps course deflection to under 2%. The practical consequences for operators are fewer drilled holes for placement of charges, quicker completion of a drilling operation, and less stress and fatigue on the drill string.
Sandvik rock tools also help keep drills on track. The tools used by GO Drilling include the Sandvik GT60 drilling system, which the company employs for blast holes. The GT60 features larger-dimension rods that can ream out holes 92 mm to 152 mm in diameter; an unusually broad range. The Sandvik rods are fabricated in the only rolling mill in the world that exclusively rolls drill steel. Leading the way down a hole is a Sandvik pilot tube that sets a sure course. "The GT60 has great quality," Mr. Oswald says, adding that tools from other makers tend to break. "We have found that Sandvik tools last quite a bit longer than other brands."
The other key contributors to all those straight holes are GO Drilling employees who operate the machines and maintain them. The company has 15-25 employees, with the number depending on the season, including drillers, blasters, excavator operators and shop technicians. A company garage handles most drill servicing and repair.
Mat Oswald takes pride in the fact that some employees have been on the payroll for two decades, a statement about company loyalty and expertise. "We have some of the best drillers there are. Certainly all of our customers think so! We train until we produce the best. We spend a lot of time and money training our drillers, making sure they are up to our standards."
GO Drilling sinks bits into rocky terrain all over Ontario, a province that is home to thousands of kinds of minerals. The company specializes in drill-and-blast operations in quarries and for construction projects. Construction work includes right-of-way clearance and anchoring foundations, with drilled holes range from 25 mm to 152 mm. GO Drilling just completed working on a 300-home development by Ottawa-based Taggart Construction Ltd., with drillers creating trenches for placement of sewer lines and water and storm drains.
Solar panel projects have kept GO Drilling operators especially busy in recent years. The Ontario Power Authority is pushing to diversify its power sources and make the province a leader in the renewable energy industry. A recent Authority project was a 10-MW solar installation about 50 km from Ottawa that featured 44,000 solar panels on 32 ha.
GO Drilling drills rock for foundations for solar panels and blasts trenches for power cables running from panel fields.
The company relies on an Ottawa sales and service firm, Selix Equipment, to supply drill parts that eventually wear out battering themselves against granite and other rock. Selix is the Ontario-wide distributor of Sandvik drills and components. Prior to establishing a business relationship with Selix, GO Drilling dealt directly with Sandvik offices in Lively, Ontario, and Montreal, Quebec. "It has been very good for us that Selix is so close," says Mat Oswald.
"Proximity is important to a busy company like GO Drilling. Our goal is to keep the drills turning," says Selix representative Mario Roussel. "To that end, we have factory-trained mechanics, fully equipped service vehicles and a large inventory of Sandvik parts. We coordinate with Sandvik to make sure our priority is prompt service."
Mat's father, Gary, founded GO Drilling 31 years ago after he decided to work for himself. He had been drilling and blasting for other companies on pipelines. He first bought a Gardner Denver drill, but soon switched to Sandvik. His fleet of machines quickly grew along with his work load, first on construction sites and then in quarries.
Today Mat heads the family company that he joined 14 years ago. His younger brother, Nicholas, operates drills, is learning the delicate work of blasting, and manages the company's work with solar projects. "It is a lot easier to work in a family business,"says Mat Oswald. "The working relationship is a lot closer." He adds that, besides family, the unpredictability of his work energizes him. "What I like about my job is that every day is different. There never is one day the same as another. Every day the job and the drill surprise me. I always have something new."
With his father as a consultant on decisions, he moves smoothly between estimating jobs, blasting rock, and repairing drills. It is an eclectic routine worthy of a company that is wide open to job opportunities. "We drill everything and anything that there is", says Mat Oswald.
Source: Sandvik Construction